Since 1983 Alabama lawyer Reginald Smith has helped Huntsville motorists get their life back on track after a DUI charge.
Alcohol causes good people to sometimes make bad choices. We are ready to help you with your Huntsville DUI defense!
The Smith Law Firm takes the approach that each and every Huntsville, Alabama driving under the influence case can be won!
Reggie Smith can save you this money.
The Smith Law Firm has been defending 1st, 2nd and 3rd DUI charges across Alabama since 1983.
Reggie understands the tremendous importance of defending the advanced criminal charges of Second, Third and Felony driving under the influence charges. He is dedicated to protecting the rights of Alabama motorists accused of DUI and drunk driving related offenses.
Dozens of attorneys for DUI defense CLAIM to be the "best". You must quiz any prospective criminal attorneys about the specifics of their methods for how to fight a DUI in Alabama. When you answer our 140 question online evaluation we will telephone you with our FREE assessment and evaluation.
The Smith Law firm looks into every possible defense angle when defending your Huntsville, Alabama DUI charges. Our dedication in defending DUI's can be seen in our 140 question DUI questionnaire which you are welcome to fill out at anytime to see for yourself why we dig deeper to defend your Alabama DUI.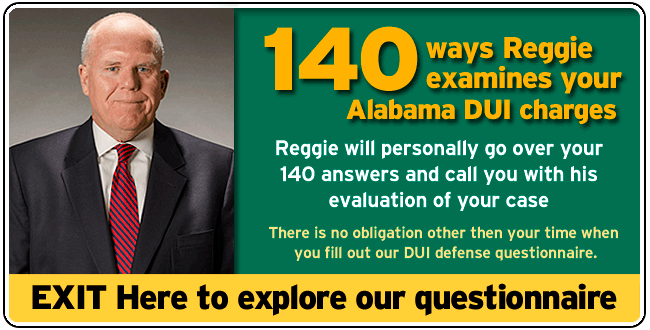 There is no obligation other then your time when you fill out our DUI defense questionnaire. Reggie will personally go over your 140 answers, evaluate your case and call back with his insights to your unique situation based on his experience of fighting DUI charges since 1983.
Actions you need to take if you have been charged with driving under the influence in Huntsville
You need a good attorney to handle your driving under the influence charges. There is simply too much at risk to handle the situation yourself. Call 205-394-4252 for an initial FREE consultation with DUI lawyer Reginald W. Smith. We are knowledgeable in the procedures and ways of DUI's within the scope of criminal procedure as dictated by the U.S. and Alabama Constitution.
Use this website as we have additional information to help you understand the charges against you, the potential outcomes and how you can fight the charges and protect your rights.
We believe that in the overwhelming majority of cases, the Huntsville police officer or the state of Alabama has made mistakes in the prosecution of your case that will lead to opportunities to achieve a positive outcome in your DUI case.
We work tirelessly through the use of experts, doctors, investigators, technology and the law to find areas of your case in which the state of Alabama has failed to meet its burden of proof beyond a reasonable doubt.
We approach your Huntsville driving under the influence case with a "we-can-win-it" attitude, we keep our minds open to any and all possibilities to be successful in the defense of your case and in defense of your Alabama and United States Constitutional Rights.
When you hire The Smith Law Firm, you have done everything in your power to achieve the best result possible. Hiring a committed DUI lawyer is the first step toward putting your mind at rest and ensuring that you have the best chance at reducing the negative impact that these types of charges can have on your life and your future.
The best results are achieved when our firm and experts have an opportunity to get involved early and quickly in the legal process. Do not delay, call The Smith Law Firm TODAY at 205-394-4252 or use our free case review form.
KNOW THE "TEN DAY RULE"
One of the most severe consequences of a Huntsville DUI charge is the loss of your privilege to drive in Alabama for up to one year. People have to make a living, and to make a living, we all have to drive.
Saving your license can be the single-most important benefit of contacting an attorney immediately upon being charged.
The "Ten Day Rule" refers to certain requests that must be made within ten days of a DUI arrest in order to maximize your chances of being able to drive. Begin your search for an attorney immediately upon being charged.
Make sure you give him or her ample time to file the necessary paperwork with the Department of Drivers' Services to ensure the maximum opportunity to save your privilege to drive and make a living.
To fight your Huntsvile DUI please follow this link to get started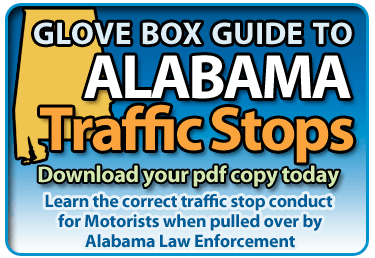 Mr. Smith, Thank you for your extraordinary service! I have received a copy of my dismissal. I am a retired State of Michigan Court of Appeals Judge and you could give most of the attorneys I have worked with lessons in efficiency and client service! Needless to say, if I hear of anyone requiring legal services, I will tell them "Call Reggie!"
Barbara C. – Retired State of Michigan Appeals Court Judge

I got my speeding ticket while vacationing in Alabama. I live in Florida, so I enlisted the help of Attorney Smith. He gave me clear instruction as to what steps should be taken and the matter was settled shortly. He is personable and I also felt confident that I'm in good hands. Thank you.
Mika – Miami Beach
Mr. Smith did a fantastic job defending me for my speeding ticket. In addition to helping me reduce my speeding ticket from aggravated speeding to simple speeding, he also obtained a youthful offender finding–which is very helpful in dealing with insurance. Mr. Smith was always kind and helpful; he replied to my emails very quickly and answered all of the questions I had before my court date. I highly recommend his services.
Sydney- a University of Alabama Student from Dallas, TX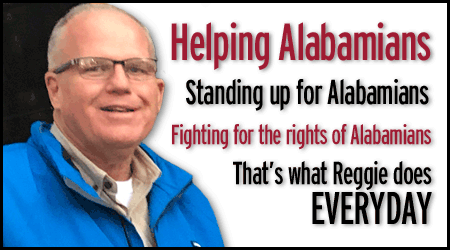 The Smith Law Offices helps Huntsville motorists with legal representation with many types of traffic tickets and violations including:
Speeding
Red Light
Stop Sign
Failure to Yield
No Insurance
CDL – Commercial Drivers
Cell Phone/Texting
Following too Close
Too Fast for Conditions
Obstructing an Intersection
Speeding in a School Zone
To fight your Huntsville traffic ticket please follow this link to get started